inspiration
Have children practice their spelling and word recognition in a fun, sensory filled way!
Practicing your sight words with a salt tray, Heritage Kids
's this idea!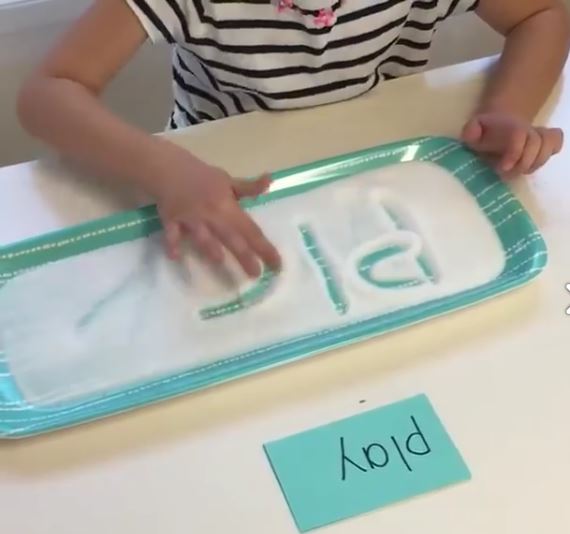 This is such a great way to have kids practice their printing, sight words, and spelling words. It's way more fun than having to use a pencil and paper, fixing mistakes is a breeze-fun even! Just shake, shake, shake away the mistake!
It takes away a lot of the anxiety that comes with potentially making a mistake and the frustration that comes with constantly having to erase. Not to mention it's a sensory-filled process, which adds interest and holds a childs attention.
Contrast between the white salt and the tray colour, plus using as little salt as possible is the key to a good working salt tray.
Another fun idea is dye your salt. Just put the salt into a zip-close bag, add several drops of liquid food colouring and shake!
You can set it out to dry for a short period of time, but honestly it dries so quickly that you don't even really need to.
Amount of salt to put in tray:
You want the base of your tray to be just barely covered.
Use approximately 1/2 cup of salt.
*Minimal salt means that the letters will show up nicely when made instead of just filling back up with salt if the tray is over full.
Credit: http://mamapapabubba.com/2016/11/13/practicing-sight-words-salt-tray/